Criminal Immigration Lawyer
Author: Jameel Manji, Founder, Manji Law, P.C.
Mr. Manji founded Manji Law in 2016 to follow his passion of helping people navigate the complicated immigration system. Mr. Manji graduated from Georgia State University College of Law and received Master of Taxation from the Georgia State's J. Mack Robinson College of Business. Published on: December 12, 2019, Last Updated on: December 26, 2019.
A criminal immigration attorney is a must for anyone who is not a citizen and has been charged with a crime. Your criminal case may have implications for your immigration status, and you need a legal representative who understands all the consequences.
Manji Law is your complete immigration solution. If you are seeking assistance with the Atlanta Immigration Court, please give us a call. Manji Law can provide valuable insight, assistance, and a guiding hand to help you achieve your goals.
Criminal Immigration Lawyers
Being arrested for a criminal offense is already a difficult situation. For non-citizen immigrants, the risk of deportation makes the experience even more stressful. If you are an immigrant who has been arrested for a crime in the United States, the stakes are incredibly high, and it is crucial that you contact a criminal immigration attorney immediately.
Criminal Immigration Attorney
Over the past twenty years, criminal immigration law has become an essential practice area of immigration defense. It is the reaction to Congressional efforts to restrict due process and the chances for immigrants to obtain and maintain lawful permanent residency. A growing number of criminal convictions have been categorized as immigration law felonies, also known as "aggravated felonies," which restrict immigrants from any relief from deportation, causing a merging of criminal defense and migration law.
When an American national faces criminal charges, the penalties can certainly be harsh. However, the consequences of an immigrant's criminal charges now go far beyond the time in jail or prison. Rather, penalty brings the capacity for irreversible expulsion from the United States. 
Immigration consequences of criminal convictions for an aggravated felony can even include deportation without a removal hearing, and ineligible to receive asylum. In addition, an immigrant can lose eligibility for a U.S. visa or green card. Depending on your individual circumstances, this can even occur if you are a permanent resident or have a valid immigrant visa.
Criminal Immigration Attorneys
The Atlanta immigration lawyers at Manji Law, P.C. are devoted to assisting immigrants with preserving or obtaining their visas or green cards. We make it our business to understand how criminal law and immigration law go hand-in-hand, and we can safeguard your innocence while fighting to keep you in the United States.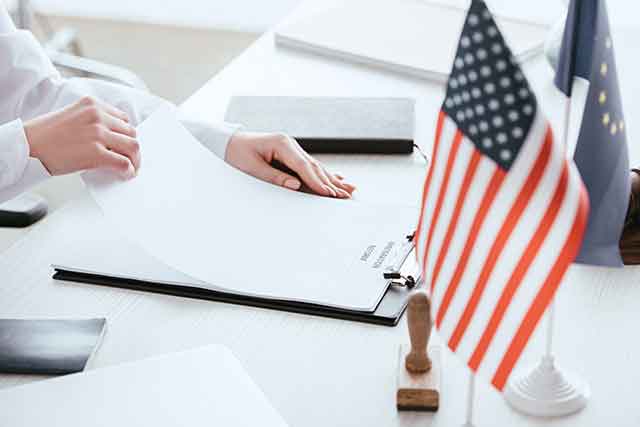 Help from Immigration Lawyers When You Need It
Contact Manji Law to schedule your consultation today. Get answers without breaking the bank.
Why Hire a Criminal Defense and Immigration Attorney?
Following an arrest, one of the biggest mistakes a non-citizen immigrant can make is to consult a criminal defense legal representative with minimal immigration law experience. A conviction for immigration is not like standard criminal convictions, and by choosing someone who does not comprehend this difference, you might be led into making a decision that permanently sets back your hard-earned path to citizenship. Lawyers who focus on criminal immigration law can identify whether a particular offense is a deportable one and help you make the right choice for your future.
Immigration and Criminal Lawyer
As your criminal immigration lawyers, we assist clients throughout all stages of the criminal defense process: first, throughout your criminal case, then at immigration court hearings and later in immigration appeals.
You should be aware that there are certain types of criminal offenses that make a non-citizen or immigrant inadmissible. For an immigrant, that means if you leave the U.S., you won't be able to reenter this country under any circumstances. Inadmissibility also means that non-citizens can't apply or receive permanent resident cards or green cards.
We will work to help you comprehend how your criminal charges may have immigration consequences and offer ideas and actions that you can take to minimize the possibility of deportation after your criminal case ends.
Confused by the Immigration Law?
Even holders of green cards face the same federal immigration laws. Our law firm is here to help.
Immigration Felony and Misdemeanor Offenses
Under the United States Code Title 8 § 1227, there are a number of classes of crimes that can result in deportation or an inadmissible status for non-citizen immigrants. These include criminal activities of moral turpitude, such as fraud, burglary, theft, assault, prostitution, murder, or rape, in addition to felony criminal offenses that bring a minimum sentence of one year or more in jail.
Other criminal activities that can result in deportation or an inadmissible status consist of aggravated felonies, specific weapons offenses, domestic violence, and drug offenses, with the exception of possession of less than 30 grams of cannabis.
Felony Immigration Laws
Moral turpitude crimes are the broadest classification of criminal offenses that can result in ICE deportation or an inadmissible status. There is no particular definition for these criminal activities, indicating that courts are typically delegated to determine if a criminal offense makes up moral turpitude on their own. Criminal activities including dishonesty, fraud, or multiple DUI offenses are typically categorized under moral turpitude.
There are also blurred lines around "aggravated felonies", a term used exclusively to define deportable felony and misdemeanor crimes committed by someone who is not an American citizen. These crimes may include:
Murder
Rape
Drug trafficking
Kidnapping
Human trafficking
Child pornography
Alien smuggling
Sexual abuse of a minor, including statutory rape
Trafficking firearms or destructive devices
Other offenses regarding firearms or explosive materials
Money laundering of more than $10,000
Fraud or tax evasion involving more than $10,000
Racketeering
Spying, treason, or sabotage
Theft or violent crime with a sentence order of at least one year
Perjury with a sentence of at least one year
Commercial bribery, counterfeiting, forgery, or trafficking in vehicles
Failure to appear in court on a felony charge for which a sentence of two years in prison may be imposed
Obstruction of justice, perjury, or bribery of a witness, if the term of imprisonment was at least one year
This list does not include all possible aggravated felonies. Immigration consequences of criminal convictions can be serious. Do not try to examine your circumstances based upon this information, as there are many nuances. In fact, U.S. courts have held that other crimes can be considered an aggravated felony even if they are not included in the list.
Due to the often obscure definitions surrounding moral turpitude crimes and aggravated felonies, it is vital that immigrants who are accused of any crime seek legal services from legal representatives who have experience navigating these laws and determining which offenses may put your immigration status at risk.
Here to Help with Immigration Felony & Misdemeanor
Contact Manji Law today if you have been convicted of a crime and get answers quickly.
How an Immigration and Criminal Attorney Can Help
Federal authorities have a great deal of freedom in deporting or making an immigrant inadmissible, even if not found guilty in court. Criminal immigration lawyers working routinely on federal matters and state and federal cases understand how essential it is to win your case if you wish to remain in the United States or have the leisure of returning if you were to leave. Even green card holders face the same federal immigration law guidelines concerning deportation and inadmissibility.
There are particular kinds of crimes that make a non-citizen or immigrant inadmissible, while others may make a non-citizen deportable. Generally speaking, "deportable" crimes are more major in nature, but they do consist of some criminal offenses likewise noted for inadmissibility status.
Immigration Criminal Attorney
Criminal offenses of moral turpitude can trigger somebody to be deported or inadmissible. Being "inadmissible" means that if you leave, you will not have the ability to reenter the U.S. Inadmissibility likewise suggests that a non-citizen can not apply for or obtain U.S. citizenship or a green card. In any case, the immigration consequences can be damaging to a non-citizen.
Even if a non-citizen was not found guilty of criminal activity of moral turpitude, they might end up being inadmissible by federal requirements. Confessing to a crime in any way might likewise make a non-citizen inadmissible if discovered by the federal immigration court. Criminal defense immigration lawyers understand that a non-citizen, even with a green card, does not need to be found guilty to end up being inadmissible.
Immigration Lawyers for Criminal Offenses
Much like the consequences for a crime of moral turpitude, the immigration consequences of an aggravated felony can have lasting impacts on your path to citizenship. These include:
Deportation without a removal hearing
Mandatory unreviewable sentence to a Georgia immigration detention center after release from jail or prison. To be released, your criminal immigration attorney needs to show to the judge that the crime you were found guilty of is not an aggravated felony as specified by immigration laws.
Not qualified for asylum
Not qualified for cancellation of removal
Not qualified for voluntary departure
Not qualified for particular waivers of inadmissibility
Completely disallowed from future admission into the U.S.
Additional penalties if discovered unlawfully reentering the U.S. The penalty for somebody who was formerly found guilty of an aggravated felony and consequently deported may be up to 20 years in prison.
Immigration Criminal Law
Criminal immigration lawyers understand how to argue your best case and minimize the repercussions of a criminal conviction as much as possible. It is best to consult our Atlanta, Georgia immigration lawyers either during the investigation process or right after an arrest so they can work to avoid charges from being filed or reduce any existing charges. When hired early on in a case, the legal team at Manji Law, P.C. will have better chances to stay ahead of the prosecution and alter the course of your case for the best possible outcome.
If you are at a later stage in your case, don't be discouraged. Our criminal immigration attorneys have a track record for innovative plea deals and wins. Do not wait until the last minute to consult them as your possibilities of getting the desired outcome dwindle as time passes and the prosecution begins constructing its case against you.
Experienced Immigration Attorneys
Let our experienced and responsive legal team help you navigate the immigration system.
Immigration Defense When Crimes Are Involved
Non-Americans in the U.S. must hire the best criminal attorney who is experienced with immigration issues in order to get the lowest possible sentence or get their case dismissed to prevent future repercussions of constantly changing immigration laws. Below are a few of the ways our law firm may be able to defend your path to citizenship and getting your green card, as your criminal defense lawyers.
Immigration Defense Attorney
If, as an immigrant, you have been found guilty of an aggravated felony or a criminal offense of moral turpitude and have not yet been physically deported, you might be qualified for post-conviction relief. A motion to vacate a conviction based upon inefficient support of counsel can be sought out by our criminal immigration lawyers.
A motion to vacate might also be an option if you were not counseled by a legal representative on the immigration consequences of pleading guilty. Additionally, our criminal lawyers can seek other kinds of post-conviction relief, such as minimizing a felony to a misdemeanor or resentencing so as not to suffer consequences to your immigration status.
Immigration Criminal Defense Attorney
If your crime has resulted in inadmissibility, you may have the option to receive a waiver of inadmissibility. With this waiver, the DHS forgives that crime in determining whether you should be allowed to enter the United States.
There is one exception to federal laws concerning inadmissibility, but it must meet the following three requirements:
There is only one conviction of a criminal offense of moral turpitude
The maximum penalty for illegal activity does not exceed one year
The immigrant was sentenced to 6 months or less in jail
Immigration Criminal Defense Attorney
Another option that your legal representative may explore includes defense at removal hearings. In a motion to dismiss in front of the Atlanta immigration court, he or she would reveal that DHS stopped working to prove your criminal conviction and can not argue that the criminal activity charge falls under a deportable offense. Conversely, your legal representative would reveal that you have been rehabilitated, that you have crucial family or local ties, and that overall, you have earned the right to remain in the United States.
Your immigration status will be the main factor in the defense method we choose for you. You can depend on our criminal immigration lawyers' legal understanding and experience with immigration law to defend your rights, freedom, and future in the United States.
Criminal Defense Lawyers Who Can Help
Understand the process, get answers to your questions, defend your rights, and more.
Best Criminal Immigration Lawyers
If you are not a citizen of the United States and you have been charged with a criminal offense, it is essential that you discuss your scenario with our criminal immigration attorneys as quickly as possible.
Immigration Criminal Lawyer
At Manji Law, P.C., our Atlanta criminal immigration lawyers will work with you to prevent a possibility of you losing your green card and getting a devastating end to your time in the United States. With our law firm's legal assistance, you can maintain a confident outlook on the circumstances. We will work tirelessly to help you win this, fight for your rights, and resist your criminal charges, so don't hesitate to contact us today.
Assistance Now from Experienced Attorneys
Atlanta Immigration Resources
Georgia Immigration Law Explained
Georgia Immigration Law is much the same as immigration law throughout the USA. However, there are also regulations specific to Georgia like E-Verify regulations and rules for state/city law enforcement, and there are local sites and agencies to be aware of.
Get trusted advice on Georgia Immigration
Your Guide to the Atlanta Immigration Court
Navigating the Atlanta GA Court can be very difficult as there are many agencies involved and lots of moving parts. This page will walk you through the basics of what to expect if you've been detained or received a notice to appear in this court in Atlanta, Georgia.
Your all-in-one guide to the Atlanta Immigration Court
Complete Guide to I-485
The process, which begins with form I-485, can be complicated. This page will guide you through the basics of an Adjustment Of Status and let you know what to expect.
#1 Guide on I-765
When coming to the USA, finding a job is probably one of the first things you'll want to do. However, before you can begin working in the U.S. you should obtain a work permit. Read on to find out how you can use Form I-765 to apply for the right to work in the United States.
APPOINTMENTS ARE REQUIRED
315 W. Ponce de Leon Ave, Suite 400, Decatur, GA 30030
5745 Lawrenceville Hwy Tucker, GA 30084
368 W Pike St, Suite 203, Lawrenceville, GA 30046